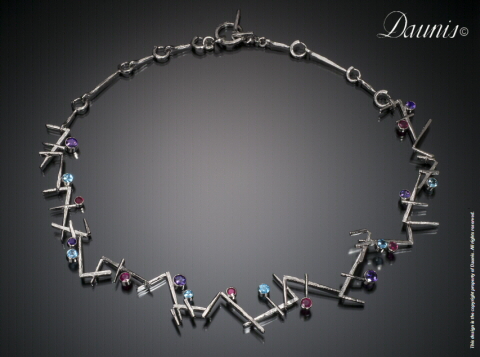 THIS SITE IS CURRENTLY UNDER CONSTRUCTION.
Jewelry is an art form and it should be in harmony with the wearer. As Maine jewelry designers, we are influenced by Maine's fluctuating coastal waters, and the tranquility of her lakes. A close look at our designs reveal the reflected light on waves and swirling eddies. We design so this movement of light and form will enhance the person who wears our jewelry.
Made in Maine, worn around the World.
We are now open by appointment Tuesdays-Thursdays. We would love to see you!
DAUNIS, 616 CONGRESS ST., 3rd floor, PORTLAND, MAINE 04101
NEW EMAIL ADDRESS: daunisjewelry@outlook.com
Phone remains the same: 207-773-6011
Please call if you have a particular project you'd like to discuss. If you'd like to bringing in stones for us to design with we create some of most wonderful masterpieces this way.
These are emails we have received from our clients:
"I love the ring you made for me with my family's Diamonds! I feel the power of all the women in my family who's diamonds we were able to use in the ring you created for me. This is an amazing ring!"
"The ring is gorgeous, I have had it on all afternoon, trying it this way and that and trying to work while not staring!" 
"I just wanted to tell you that I LOVE my ring! I keep staring at it :)" 
"We just received our rings. We are thrilled!"
"Keep making all those beautiful pieces of jewelry!"
This website is a very small collection of our work. Email us to be on our monthly email of new creativity! If you would like to see other designs, please contact us and we can email you other pieces we've created.